The dinosaurs that have taken over downtown Harrisburg are just the beginning of "Dinomite Summer," which will feature weekly events from concerts to festivals and MORE for the entire family.
"Reggae on the Roof" will kick off the summer-long festivities this Friday when The Wailers, Bob Marley's former band, take to the roof of the River Street parking garage. 
Through August, downtown Harrisburg will be jammed with events and activities.  
With so much going on, we'll give you a good start on where to go, what to drink and how make the most out of your summer downtown.
First, if you haven't yet, you need to check out the different dinos that have been painted for this year. It's an outdoor art show that has T-Rexs boxing, a stegosaurus with music notes and a Refasaurus from Arooga's.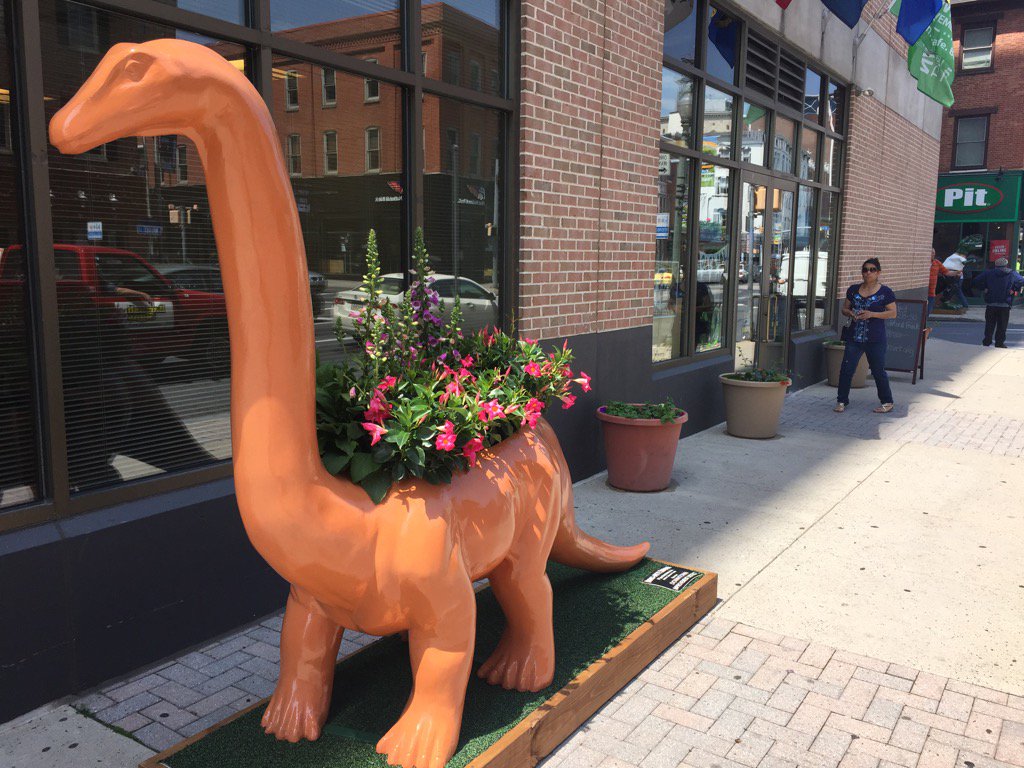 What to eat & drink
Dino-Brew
Burgosaurus Rex is going to be your go-to beer to pair with all the events during the week. The Brewery at Hershey brewed this refreshing 5% ABV hoppy cream ale that will become a craving. Burgosauraus will be available in many downtown bars.
Bar Golf (no, not that kind)
Drink and play mini golf throughout nine local bars with Prehistoric Putt Putt on June 11. Downtown bars — including Mulligan's, Bacco, Zembie's, MoMo's, JB Lovedraft's, Stock's on Second, Arooga's and Sawyer's — will feature their own unique hole for the course, along with coupon or food/drink special.
Winner gets $500 and it's only a $20 donation to HYP for a foursome.
BONUS: A family-friendly round runs earlier in the day (see below)
Chili, Wings, Salsa Festival
Dino-City Cookoff on Saturday, July 9 will pit local bars and restaurants against each other to find out who has the best chili, wings and salsa.
Lunchtime Block Parties
Take a mid-day break and sneak out of work to a Lunch-A-Palooza event.
Bedrock Block Party: Skip out of work for lunch and pretend like you don't have to back while chowing down on BBQ and listening to live music.
Dine-O-Mite Sidewalk Carnival: Pair lunch specials at downtown restaurants with games, street performers and live music all along Second Street!
Cupcake Jamboree: A desert street fair, do I need to add any more to that? Indulge your sweet tooth with the "Battle of the Cupcakes" dessert contest.
Live Music
First Friday Rooftop Concerts
This summer, the River Street parking garage will transform into one of the most unique concert venues in the area.
It starts this Friday with Reggae on the Roof featuring The Wailers and continues July 1 with a Rock Show on the Roof featuring classic rock band The Struts. A third event is planned for August 5. Entertainment to be announced.
Jurassic Jazz and Arts Festival
On Saturday, Aug. 13, downtown will transform into a jazz festival featuring live jazz bands performing in downtown restaurants plus a showcase of art galleries and artists lining the streets.
Take the family!
Dinomite Summer was thought of with the whole family in mind. The initiative is meant to show people what downtown has to offer.
Prehistoric Putt Putt is a 12-hole course that winds through Riverfront Park. It's free to play and register.
Note: This version is played earlier from the adults-only bar version listed above.
Sidewalk Cinema
Grab a blanket and some chairs to watch the entire Jurassic Park story outside Tuesdays in June! Events will occur at the PSEA parking lot at the corner of Third and Cranberry streets.
June 7 – Jurassic Park
June 14 – The Lost World: Jurassic Park
June 21 – Jurassic Park III
June 28 – Jurassic World
Dinomite Summer features something for everyone. Be sure to follow on Facebook, Instagram and visit DinomiteSummer.com for the latest information.